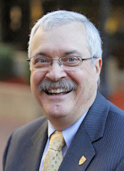 Andrew Herrmann is the 2011-2012 president of the American Society of Civil Engineers. He is a principal at New York City-based Hardesty & Hanover, a transportation consulting engineering firm founded in 1887, and is an expert in the inspection, rating, design, rehabilitation and construction of bridges. SmartBrief talked with Herrmann about his approach to the country's deteriorating infrastructure and what it will take to move the country forward.
Civil engineers in large part are in charge of society's quality of life. The world now has more than 7 billion inhabitants. How will that affect the engineering profession, and what is the most important consideration that engineers must take into account as they go about their work?
The most important considerations that engineers must take into account are public health, safety and welfare. That encompasses everything from providing clean water, maintaining and building transportation networks, providing for the safe treatment of wastes to the harnessing and use of natural resources. This is vital because what we engineers do affects peoples' lives.
With such rapid advances in technologies (and population), how can civil engineers keep up?
Civil engineers must remain open to new ideas and technologies as they maintain and provide the nation's infrastructure. Continuing education, already required by some states, is actually a necessity to keep abreast of current methods and new technology.
The World Economic Forum has ranked America's global competitiveness at fifth in the world but its infrastructure as 16th in its 2011-2012 Global Competitiveness Report. What will happen if we don't attend to our infrastructure in the near term?
America's infrastructure was once the envy of the world, and it was the reason for our top place in the world economy. We have neglected our infrastructure for decades, and it is now starting to show. Our competitiveness slips, and as China and India invest in their infrastructures, their competitiveness rises.
ASCE's economic study, Failure to Act: The Economic Impact of Current Investment Trends in Surface Transportation, underscores the realities of failing to invest in our infrastructure and the negative impact that such failure will have on families, America's businesses, and the nation's gross domestic product.
How do you propose we fix the thousands of "structurally deficient" or "functionally obsolete" bridges and the thousands of miles of aging water and sewer pipes in the country, particularly in this climate of budget cuts?
We need to educate the public and our legislators about the condition of our infrastructure and the negative effects the poor condition has on their lives. The public is more inclined to invest in infrastructure if they can see repairs and projects built for their tax dollars.
If you had to choose a "best of" action taken by Congress this year,  what would it be and why?
The best course of action Congress could take this year — and there is still time —  would be to enact multi-year legislation to fund infrastructure at a level that improves its overall condition each year. Infrastructure is not a month-to-month continuing resolution. Infrastructure projects by their nature are long-term and require long-term funding to plan, design, build and maintain.
What is the biggest challenge that the civil engineering profession will see next year and how can individual engineers and engineering firms prepare for that?
The biggest challenge is educating the public so they can educate their legislators about the need to invest and restore our infrastructure. It is truly an investment that pays back more than the investment itself. It not only provides much-needed jobs, but investing in infrastructure improves our quality of life, the country's global competitiveness and can give a needed boost to our lagging economy.
Image courtesy of ASCE.
This question-and-answer session was produced as part of SmartBrief's 2011 Best Of reports, which capture the year's most important stories in each industry. Sign up now for ASCE SmartBrief to get tomorrow's report on the top must-read stories from the civil engineering industry.