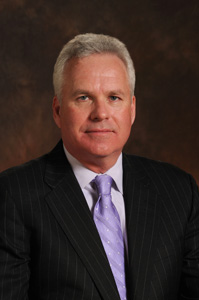 The Associated General Contractors of America and its member commercial-construction contractors exist in an ever-evolving political and economic climate. Constricted credit markets, lengthy project-approval processes and burgeoning regulatory requirements have taken their toll on the industry and by spring of 2010, nearly 2 million construction workers had lost their jobs when projects were postponed or cancelled.
Understanding that recovery would come, AGC focused on innovation — adapting and improving to meet the needs of a changing industry. The unemployment rate for the industry has gone from 27.1% in March 2010 to 17.3% in July 2011. Guiding the association through these times is CEO Stephen Sandherr. I recently spoke with Sandherr about his thoughts on leadership. This is an edited transcript of our conversation.
What is your leadership philosophy ?
Hire people and let them do their jobs. What this translates to is to let them be innovative and entrepreneurial. Give them a wide birth, but be available to support them. I worked in an environment that stifled innovation, new ideas and challenging the status quo. It was repressive and I vowed I would never repeat it if I had the opportunity to lead.
When was the first time you were somebody's boss?
I don't know if I've ever been anybody's "boss." But the first time someone reported to me was probably 20 years ago. I had left AGC and then returned. At first it wasn't all that comfortable. The person who reported to me thought she should have had my job and so she was rather miserable and moody. I handled it by being deferential to her and giving her more opportunities and expanding her portfolio. I wanted her to know she was a valued member of the team. After a while, it worked.
How do you decide whether someone is right for your team?

First of all, I look to see that they have some type of the experience that is necessary for the position. Secondly, I look at their attitude. Do they have an attitude that will let them work well in a team? Can they subordinate their own ego and interest for the good of the team? And I look to see if they are comfortable in a customer-service culture.
Outside Washington, D.C., whose work do you admire most?
I admire New Jersey Gov. Chris Christie because he has guts and tells people the truth. For instance, he identified a problem — state spending on public employee benefits was unsustainable — and he was willing to take on some powerful interests to do the right thing and make himself politically vulnerable in the process. By doing that, he emboldened other folks inside and outside of Washington to have political courage.
If a recent college graduate came to you and said he or she wants your job one day, what advice would you give the person?
Advice I would give them would be to first look at every day as an opportunity to learn. Secondly, I'd tell them to be patient. Third, I'd advise them to not take a promotion or another job just because it offered more money. Instead, they need to make sure that it is something they know they would enjoy doing and something that fits their skill set. Finally, I'd tell them to identify somebody that they admire and then emulate what they think that person does well.
Photo credit: Associated General Contractors of America
SmartBrief works with hundreds of professionals in the association, professional society and nonprofit sector. We regularly feature unique content written by and for industry leaders, focused on issues such as membership, communication, management, development, technology, volunteering and growth. Interested in contributing your thoughts or being interviewed by a SmartBrief editor? E-mail Partnership Sales Director Jessica Strelitz for details.
Want more on association leadership? Click here for the archives.