JW Roberts is the CEO and founder of General Datatech, a Cisco value-added reseller that provides core routing and switching, unified communications, security, wireless, datacenter and storage solutions to clients nationwide. The company recently moved all its departments into a renovated and retrofitted dairy processing plant in Dallas — at a cost significantly higher than if it had moved into a purpose-built facility. SmartBrief asked Roberts about the decision to retrofit and the benefits the company has seen from that decision.

Why did you choose a renovation/retrofit rather than new construction?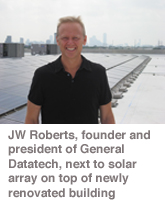 While the economics favored migrating to a purpose-built facility in the suburbs, we believed strongly that the company, which had been a corporate resident of Dallas since its founding, should remain in Dallas and seek to restore an older building. Such a project would help preserve history, be more environmentally responsible, and produce a facility with dimension, texture and character -– as opposed to more typical, generic spaces.
The renovation created problems we wouldn't have faced otherwise, and it cost more and took much longer than building a new facility, but it really reflected who we are and what we do as a company — solving complex problems and creating new efficiencies for our customers. Long-term, it should help us reduce operating costs as our energy and irrigation expenses are controlled better than they would have been otherwise.
We had the opportunity to control more of the environmental elements of our facility, and we wanted to capitalize on it. Optimization and efficiency were core goals in our renovation project and we hope to receive our LEED Gold certification later in 2011.
What are some of the "green" elements you added?
As part of our renovation, we installed a 30,000 gallon rainwater collection system that handles all the irrigation needs for our native plant landscape. Thus, our irrigation requirements will be low because of the plant material chosen, and the rainwater collection system should be more than adequate to serve those needs. We also installed a 100-kilowatt solar array.
The technology we are wrapping into our building (and that others could use in their buildings) is significant; the whole effort is about how we can take a building and make it intelligent. We do that by creating a network and then loading applications on top of the network. One element of this technical infrastructure is digital signage, which is located throughout our building in common areas and outside conference rooms. An obvious and first use is that the signage promotes company messages, details on building guests, key events, employee news, etc. It also fits in with our environmental commitment in that it can eliminate most use of paper for posters, news announcements and such.
What advantages did you foresee with a retrofit?
This renovated facility would enable us to construct a workspace that is different from a garden-variety suburban building, and I believe this fits in well with our culture -– we don't want to be just another VAR, but a truly unique and differentiated business partner.
A key competitive differentiator for GDT, and a core goal in completing this building renovation, is that a project manager sits next to an engineer and an account manager, who sit beside a structure/cable expert and a logistics manager. We are all within arm's reach of each other, which ensures ease of communication and collaboration.
With the warehouse and staging space, we are able to physically procure, configure and test the equipment that is being implemented in a client's network. It helps complete the circle for delivering and implementing much more quickly and with much less disruption for our clients at their locations. Because this is done much more efficiently, this saves time and resources, for us and our clients.
Finally, because we view this building as a working lab for everything that we do, clients can understand better what they can achieve with the technology we implement and hopefully eliminate many costly mistakes